---
S04:E08 – "It's Not Fascism"
Episode 56 • Published Sep 01, 2020
Don't worry, there's some good stuff in this episode too.
---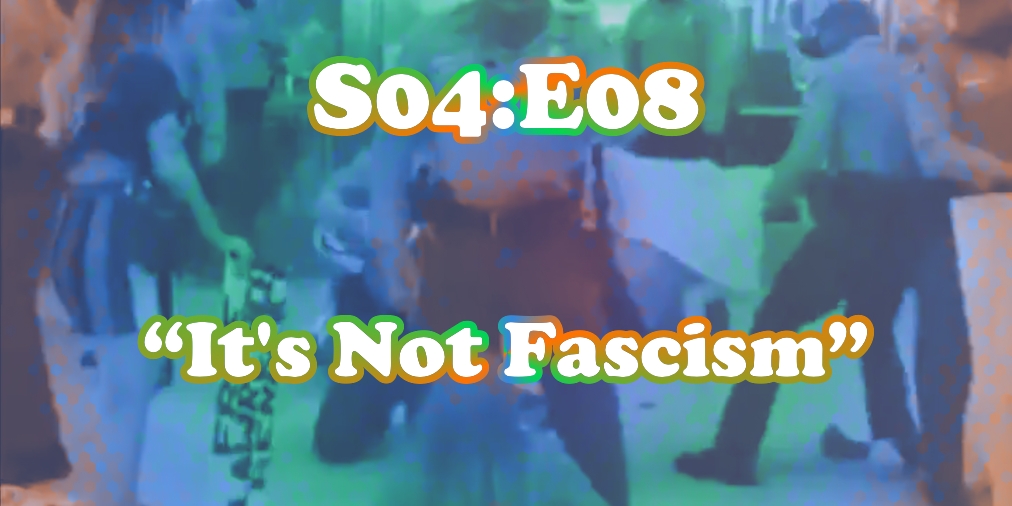 I wish I never saw the long thumb
Kimchi Fried Rice followup
From the Department of Operational Excellence
---
What's the worst twitter account?

Stop Personifying The Year Challenge 2020

I'm going to taint punch the next person who says "I can't wait for this year to be over"
The problems we're experiencing are not momentary or novel—-they are systemic. Stop talking like they're just some sort of natural outcome of astrological alignments or some shit I WILL KICK YOU IN THE ANKLE!!!!
---
Ad: The Lincoln Log Project

Things you can build: houses, fences, other houses
---
Everyone had the same Nick Sandmann joke from the RNC
Thought technology: okay, but what have they done?

Leaders, pundits, posters and politicians get a large amount of credit for things they say without any examination of whether or not there's any prior history to prove they'll follow through with their Good Pronouncements ™
When presented with a fire hot take or a Very Brave Statement, temper it against the actual actions of the person.
---
Co-signed

Smith's main grievance against unions is that organized labor is, in itself, a political act, something that institutions like the Times avoid like the plague lest someone accuse them of "bias." Smith in particular picks at recent support for unions (including the one he had such doubts about at BuzzFeed) by popular progressive politicians like Bernie Sanders and Alexandria Ocasio-Cortez, as well as the NewsGuild's request for public stimulus funding for recession-plagued journalists. To drive this point home, he quotes Peter Baker, the Times' White House Correspondent who is so psychotically horny for objectivity that he doesn't even vote. The thing that Smith and his boss Dean Baquet obstinately refuse to recognize is that sustaining the illusion of objectivity people like Baker clearly yank it to on a nightly basis is really only possible for people like Baker who work at institutions like the Times. The rest of us work in the real world, where bad-faith critics will always assume you're biased no matter how many Midwestern rest-stop diners you interview. The only way to combat this is not through both-sidesing and hedging, but by being open and honest about biases in reporting and striving above all for fairness, not balance.

Black Lives Matter on the Picket Line - Discourse Blog

"At the end of the day, them people get rich off our backbreaking."
---
Fascism is an ideology; not a system
The Violence Discourse

The discourse on violence has become perverted and degenerate.
The discourse is governed by the elites and reflects their interests
Destruction of property = violence, but destruction of human bodies and minds = ??? "something else" every damn time
It's the same conflict with "cancel culture" — criticism of the powerful is violence, but criticism of the lower classes is discourse????
Especially topical given the murder of two protestors by a right-wing vigilante in Kenosha

Defending a gas station

Excited to get my Speedway SuperAmerica Defense Campaign Ribbon with Oak Leaf Cluster

Extremely ridiculous argument that the shooter was acting in "self-defense"—from people who were trying to stop him from SHOOTING MORE PEOPLE
Right-wing media doing its best to write hagiographies of the shooter

Actually, protestors are the real lynchers